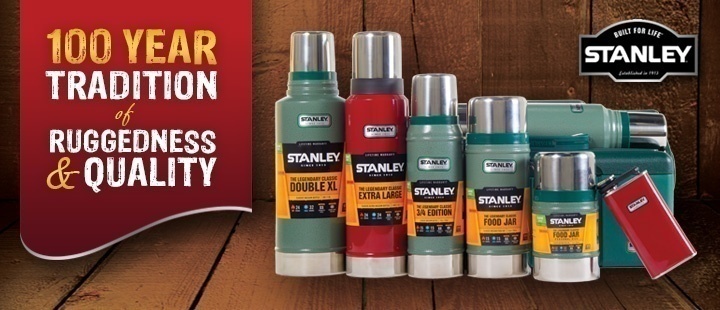 Stanley has always been a company that has cared about quality. Dating back to their first mass-produced Stanley bottles in 1915, they've never cut corners on their products.
And their thermoses should look familiar. Your dad or grandpa probably carried one to work or on fishing trips. And he did it for good reason. Not only did it stack the man cards in his favor, but it kept his coffee piping hot for 24 hours.
The latest generation of thermoses are no different. They're still dressed in the iconic brushed green finish that you'll recognize (although they have a variety of colors, too). And they're certainly no slouch when it comes to heat retention. It doesn't matter if you choose the 16 oz. mug or the ultra-jumbo 2 quart version; Stanley will bring the heat all day.
Plus, you won't have to worry about replacing them anytime soon. Stanley believes in their products and backs it up with a lifetime warrantee.
If you need to transport more than liquids, take a look at their Heritage Cooler and Vacuum Bottle Combo. It pairs their classic vacuum bottle with a solid cooler to pack your lunch for the day or your beer for the weekend. Plus your thermos locks into place on the top of the cooler for easy transportation.
Head over to our Stanley Thermos page to find the perfect thermos for you. But be aware, as soon as you unpack your new Stanley Thermos, your beard will grow two inches and you will instantly be wearing an animal pelt and work jeans. Don't say we didn't warn you.
Right now, All Stanley products are 20% off. See them all here.