//
//
//

SAME DAY SHIPPING*
Model#: C-ED-169
Stock#: C-ED-169
Ergodyne TREX 6325 Spikeless Traction Devices
Multiple Options Available
$35.95
Please select an option below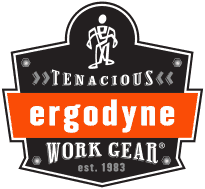 ---
Ergodyne TREX 6325 Spikeless Traction Devices
Features:
Spikeless Traction – Reduces risk of slips and injuries without scratching surfaces
Easily transition from outdoors to indoors without removing
Strategic grooves, micro-pumps and block sipings for optimal traction on water, ice or snow
Hugs the toe and heel of shoes or boots
Adjustable cord cinches tight for secure fit
Heel Pull Tab – For easy on/off
Tested to remain flexible in temps as low as -40°F (-40°C) for the sling and -20°F (-29 °C)
The Ergodyne TREX 6325 Spikeless Traction Devices, are the industry's most advanced spikeless traction devices. Designed for work environments where spiked ice cleats are not preferred, these shoe and boot grips make for an easy and safe transition between indoor and outdoor use without scratching surfaces.
To achieve traction without spikes, the treads are constructed with a Michelin ice control compound—the same innovative technology found in their winter driving tires. Three distinct traction features enable optimal wear in any indoor or outdoor condition.
WATER
Strategically placed grooves allow for efficient water evacuation when pressure is applied. Preventing water build up is particularly beneficial on smooth indoor surfaces.
ICE
Micro-pumps increase adhesion by properly distributing pressure to maintain high surface contact on icy surfaces.
SNOW
The tread is designed with block sipings that create additional surface area for increased grip on snowy surfaces.
Available in multiple sizes, these slip-on ice cleats will fit over any style of boot or shoe for traction and stability on slick surfaces. Tested to be flexible in temperatures as low as -40°F (-40°C) for the sling and -20°F (-29 °C), the stretchable rubber material provides a secure fit and easy slip-on/off wear.
SIZING
TREX Ice Traction should fit snugly on your boot or shoe. A stretchy, one-piece design with adjustable cord cinches tight for a secure fit. Use your shoe/boot size to determine the approximate size.
Medium fits 5-8 US Mens
Large fits 8-11 US Mens
XL fits 11-14 US Mens
C-ED-169
ED-16923
ED-16924
ED-16925