//
//
//

SAME DAY SHIPPING*
Columbia Safety PRO combines our Gear Expertise with world-class distribution technology to provide a seamless flow for your team.
Customizable Controls & Permissions
---
Columbia Safety PRO is a revolutionary business platform that puts you in the driver's seat. By combining our Gear Expertise with world-class distribution technology, we've developed a system that empowers business owners and management teams to take their business to the next level, saving time and money. Our system was designed to adapt, change, and conform to your company, easily putting you in control to customize your Columbia Safety PRO site to the unique way you do business.
With nearly 30 different permission features you can completely customize your team's accounts and their capabilities with the click of a button. Looking for a way to require purchasers to get approval for orders? PRO has a permission setting for that! How about limiting purchases to a select list of items that you have approved? Or what about creating users that can only access accounting related functions like reporting and bill pay? PRO has permissions for that, too.
The possibilities are truly endless – and the best part? You can make it work in a way that is most efficient for you. Permission templates add another layer of convenience to the PRO platform. With our easy to implement permission templates, you can empower your employees based on common role-based permissions like Admins, Accounting, Order Approvers, or Order Requesters.
Need to create new users? You've got the power to do that, too – simply use one of our permission templates or select customized user permissions. Our powerful user management tools give you complete control over which team members have access to what and when. Activating or deactivating users is immediate, putting you in control to act quickly as your business grows.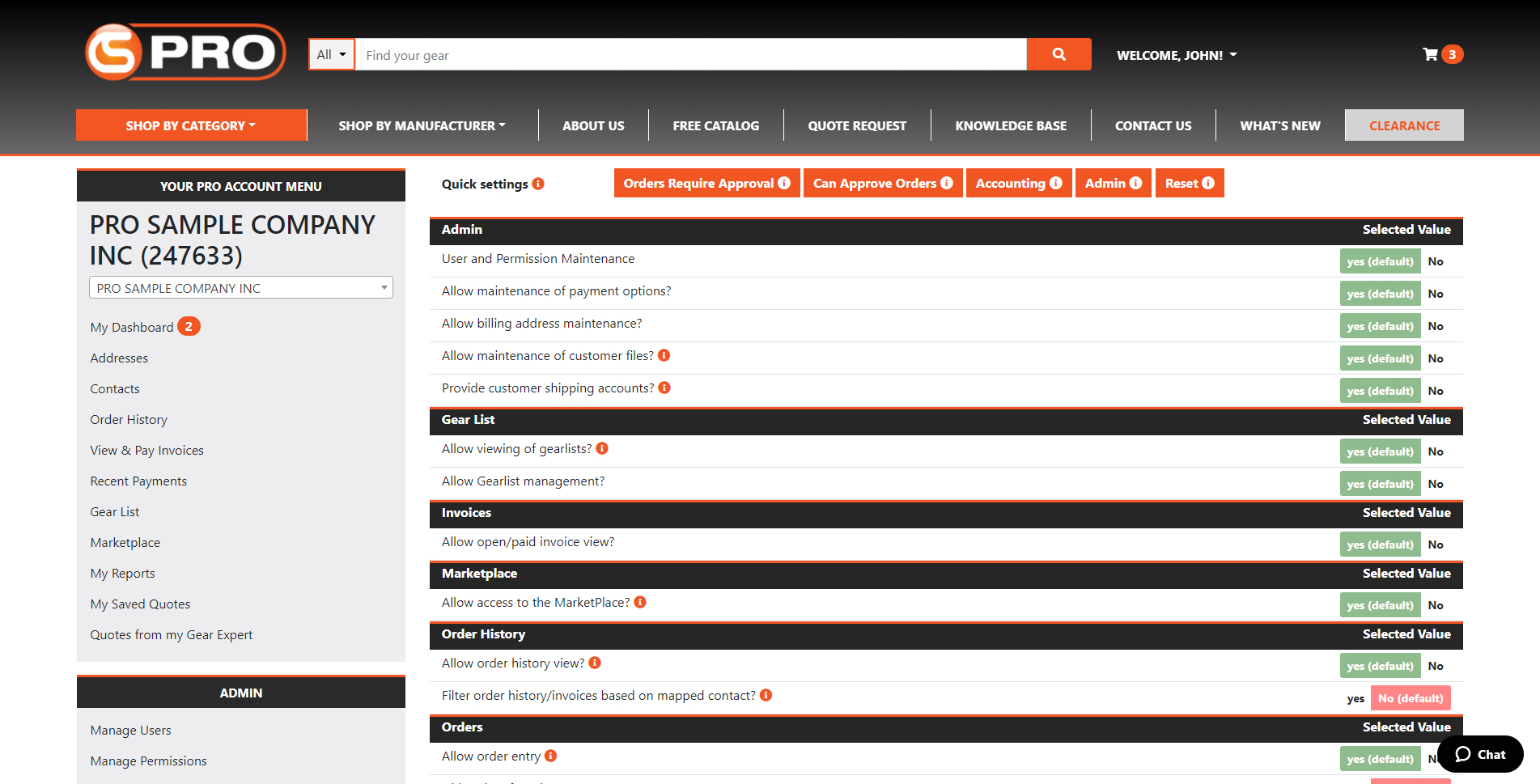 Reporting
---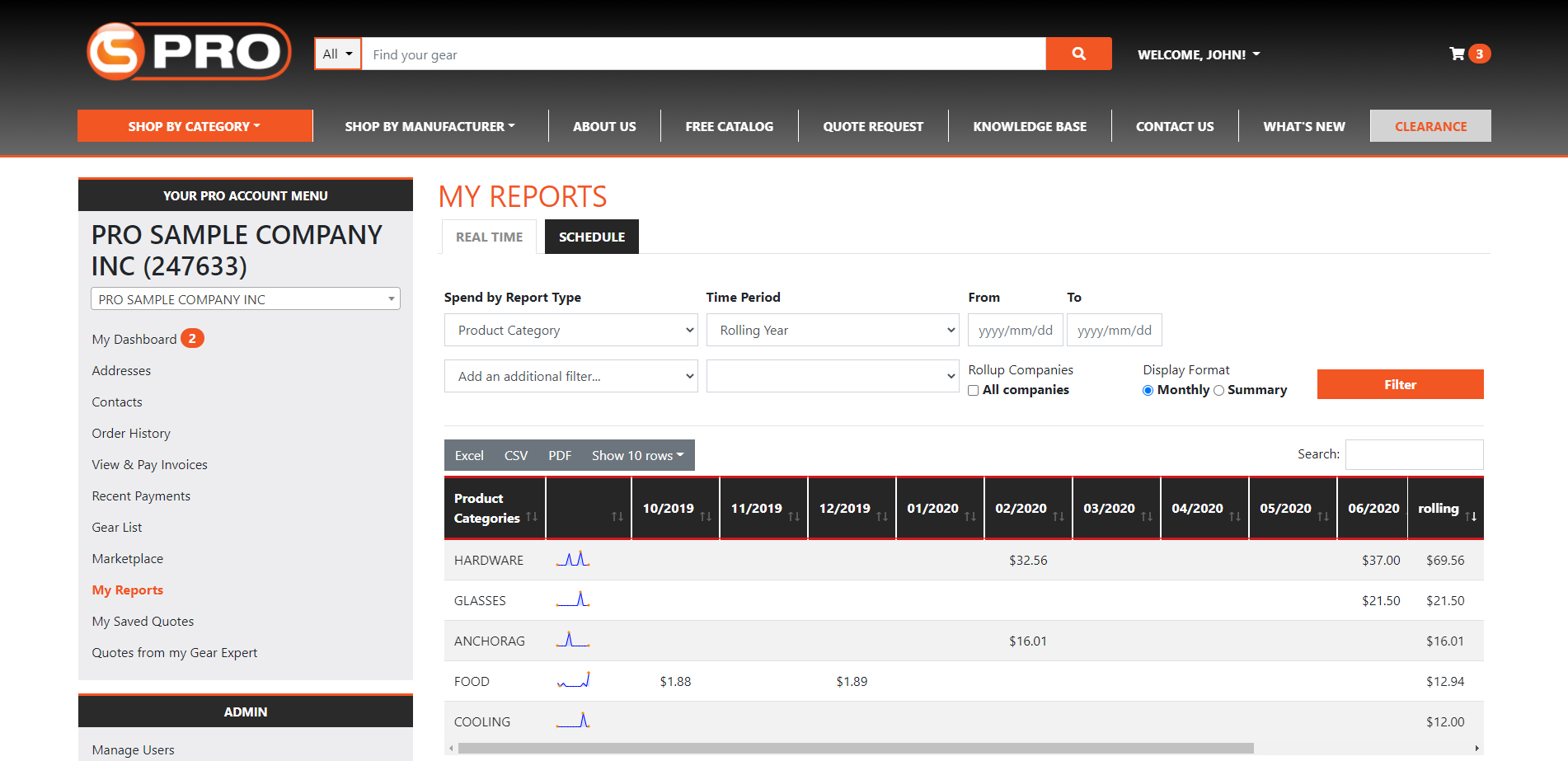 Analyzing the money your company is spending can significantly impact your business. Columbia Safety PRO's robust reporting system provides a wide variety of reporting tools to help you make the best decisions for your business. Reports are easily generated and customizable. Download them as an Excel document, a CSV file, or a PDF with the click of a button.
Our PRO reporting system allows you to save time on tracking down receipts, invoices, POs, and more and houses all your reports in one location within your management dashboard. Find out what money is being spent (company-wide), who is placing the orders, where the products are going, when they are being ordered, and so much more. Take your reports to the next level with an intuitive filtering system that provides the customization to track down the information you need. Need to know how much a specific employee spent in a specific category? Our filters can help you quickly track down that information.
Reporting is never done – or so it would seem. But that doesn't mean we can't make it easier, right? With Columbia Safety PRO you can take control of your reports by scheduling recurring reports so they come to you automatically. Simply select the report, the time period, the format, and when you want the report to be generated, and you'll receive it on the schedule you've selected. Want to get a monthly report of all purchases by shipping location? No problem. How about seeing what each buyer purchased the week before? You can do that as well.
Simplified Quotes
---
Columbia Safety PRO has a robust quoting system directly integrated into your account while providing the freedom and customization you need to run your business. Do you require employees to submit quotes internally prior to purchasing? With the "Save as Quote" feature in checkout - you can easily convert a cart into a quote. Need that quote to be shared with a supervisor? Emailing that quote to your supervisor right from the cart can be done in seconds. Your quotes will be stored in your "My Saved Quotes" section – so you can access it anywhere anytime.
Sending internal quotes isn't the only feature we've built-in. You can now send quote requests straight to your Gear Expert® with the click of a button – all from your cart. Our integrated quoting system helps you save time and provides the freedom to request special pricing for new projects or major purchases anytime, anywhere.
It doesn't stop with submitting quotes. Keep your quotes organized with Job IDs and even pick and choose which employees can do specific tasks. And, once the quote is approved, ordering is easy – just open the quote and checkout without any extra steps.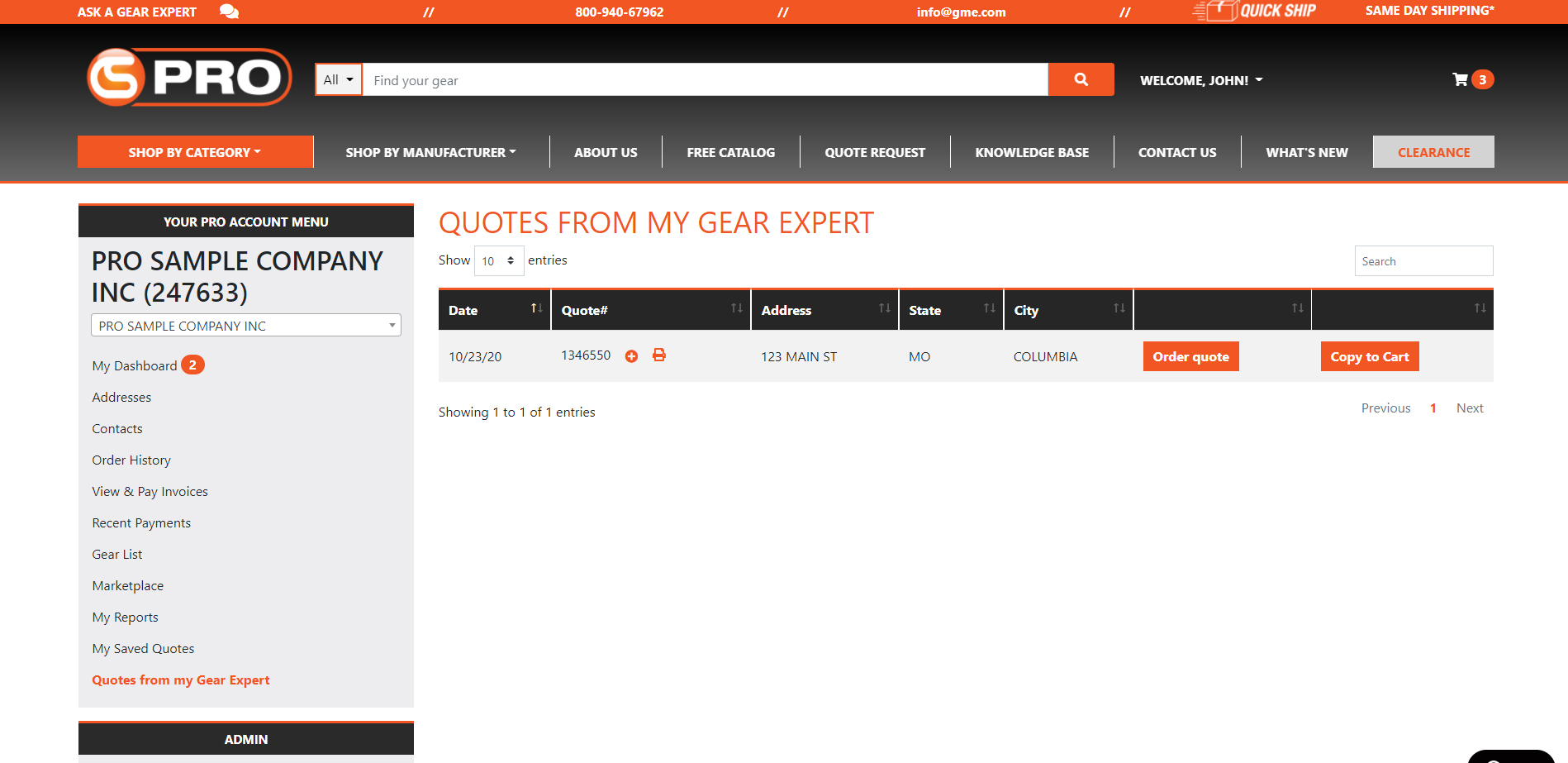 Simple Product Selection - Gear Lists
---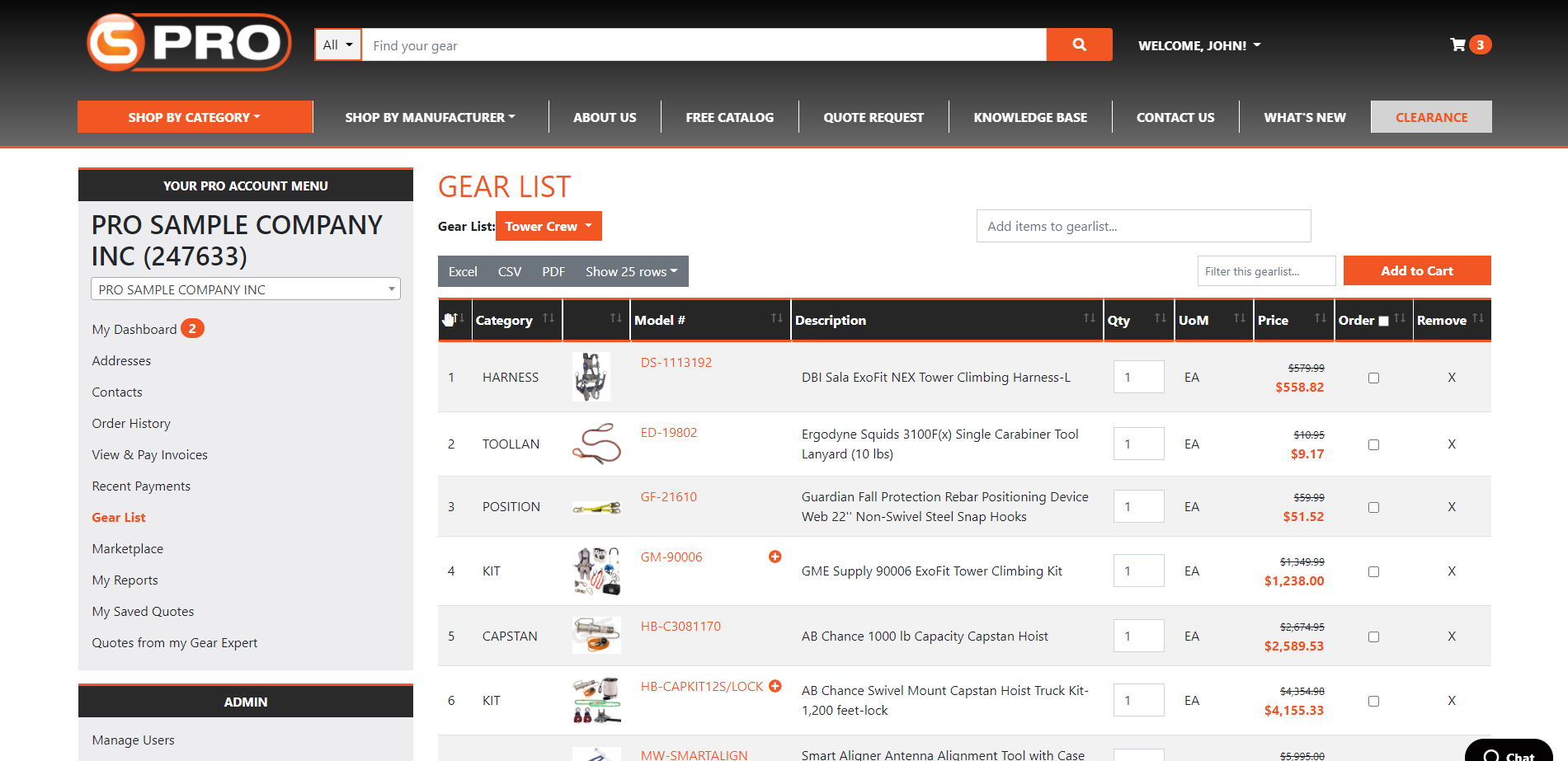 Gear Lists are jam-packed with features to help you streamline your common purchases while simultaneously offering control of who can buy what – when used in combination with our permissions settings.
The customization possibilities are endless – from lists for specific crews, specific locations, specific jobs, custom kits, and anything else you can imagine. Do you have a standard set of gear provided to all new hires? What about a standard set of gear provided to all new crews? Ordering entire sets of equipment, or just one replacement item, can be done in seconds with Gear Lists. Our system is built to provide you with the tools you need to get the job done while saving time and money through consolidated purchasing.
Want to restrict employee purchases to pre-approved items? That's easy with Columbia Safety PRO's user permission settings to limit purchasing to only approved Gear List products. This prevents wildcard purchases, saving your organization money, and standardizing what your employees use. Standardizing your company's selection of products allows you to scale your purchases, giving our Gear Experts® another way to drive additional savings your way.
PRO Marketplace
---
The PRO Marketplace provides access to our entire catalog. We pulled out all the stops and created a system that empowers you to take complete control of purchasing while saving you time – and money. Our platform allows you access to our entire selection of products. It's all conveniently located within your PRO account so you can view it and shop at your convenience.
As a PRO customer, you've earned a discount with us, which will apply to our entire selection of products. Your Gear Expert® can update your account to apply your system-wide discount directly in your PRO Marketplace. Go to any item and you'll see your earned discount featured on the product page. This allows you to streamline your purchasing process – plus you can order whenever you want and rest assured that you're getting a great price.
Our system is fully integrated, which means that as a PRO Admin, you have complete control over the Marketplace. With specific permissions, you can grant or remove access to the PRO Marketplace. For added peace of mind, you can set credit limits, order limits, and more to ensure employees are only buying the items they need. Customization doesn't end there. If you upload your logo through your management dashboard, you'll see a co-branded Marketplace featuring the Columbia Safety PRO logo and your company logo.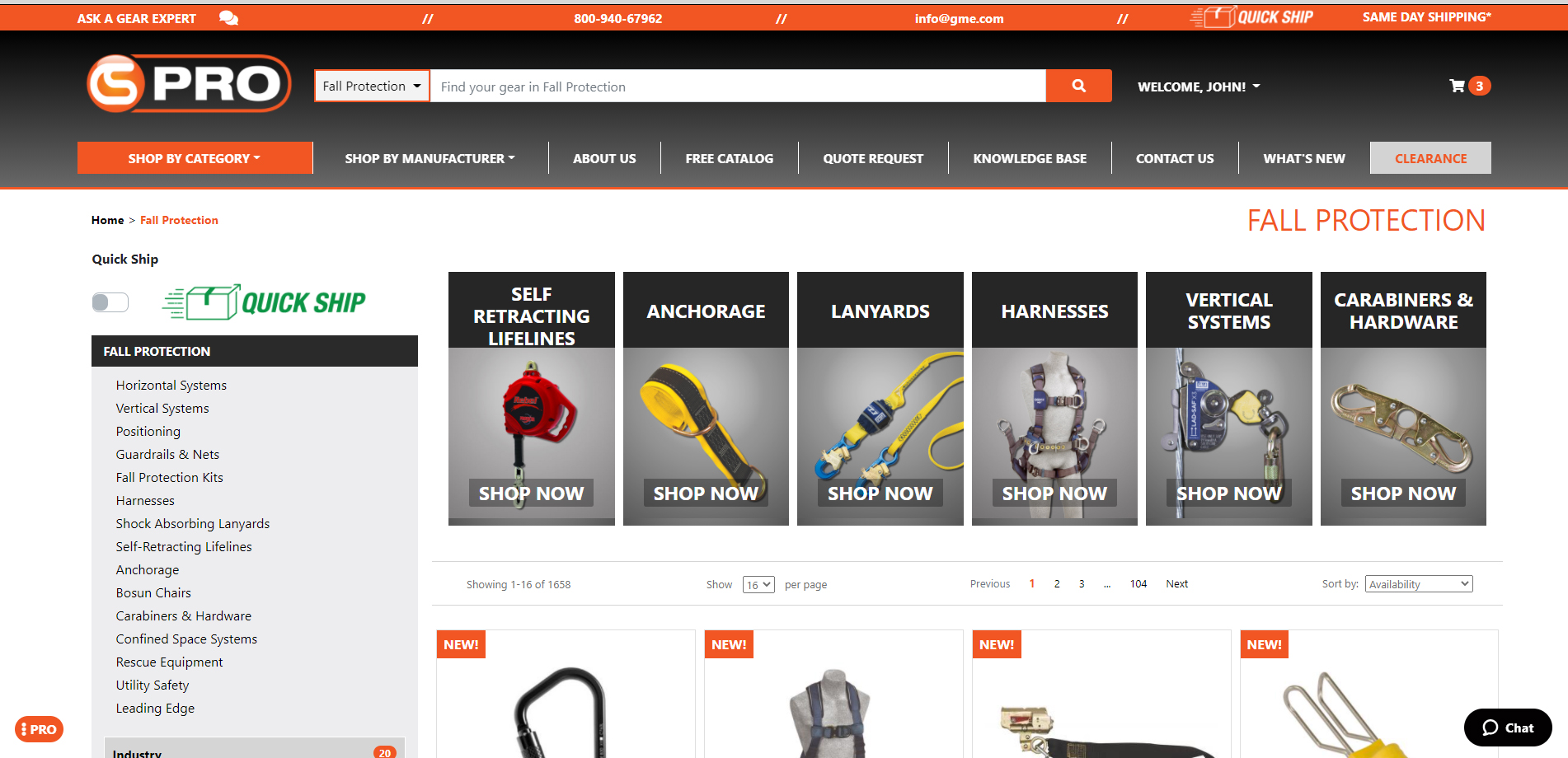 Tracking & Invoices
---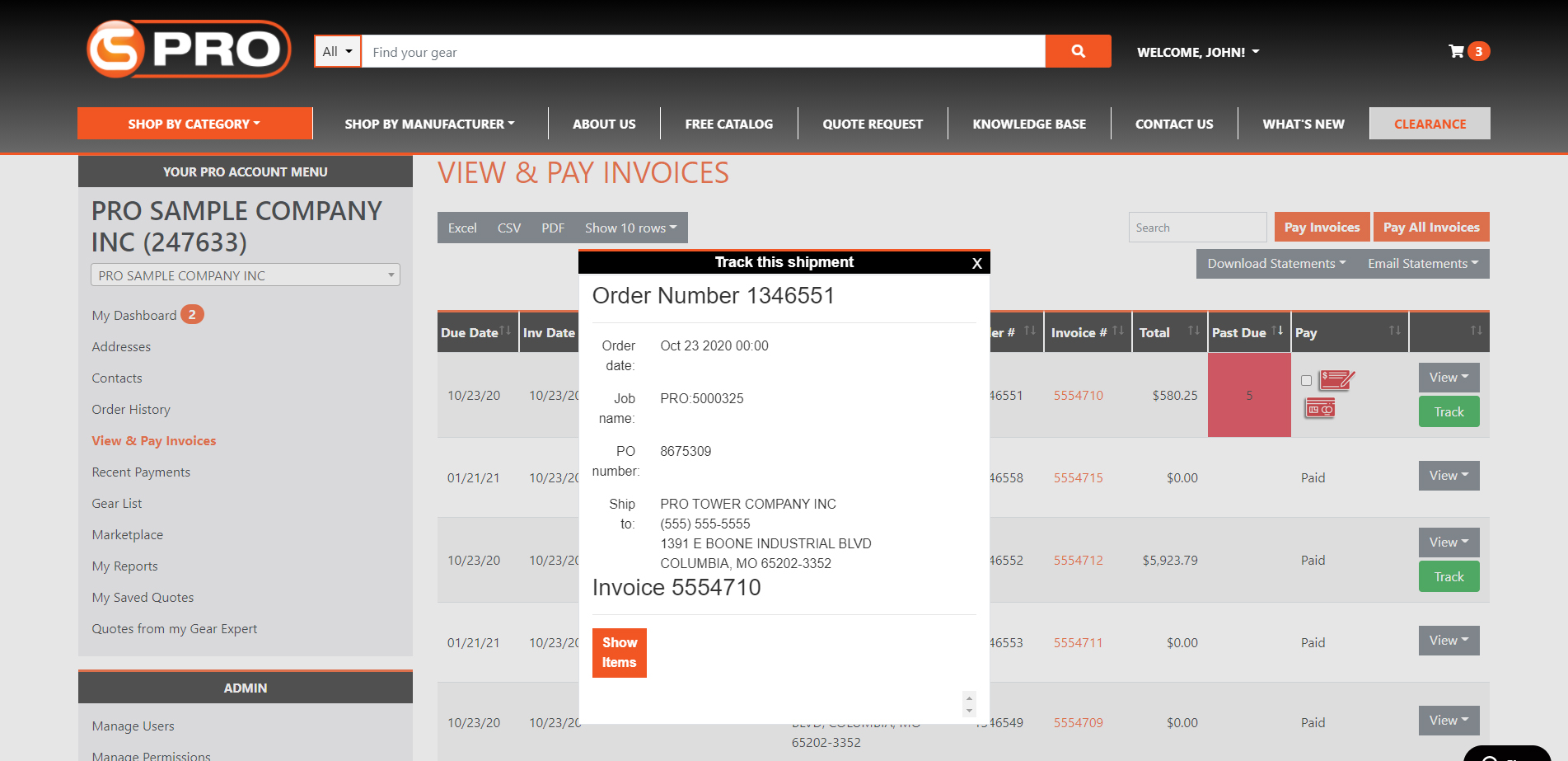 Our Gear Experts® have always put a focus on ensuring we do everything we can to get you the gear and information you need when and where you need it. The tracking and invoicing system built into your PRO account is an extension of that commitment and offers a central location for you to manage it. Whether you're looking for the status of an order, a copy of an invoice, or shipment tracking info – we've got the information you need.
Add another layer of efficiency to your business with order tracking information – all conveniently located in your PRO Dashboard. By knowing what gear will arrive in what location and on what day, you will be able to make tactical decisions to keep your crews running and reduce downtime.
The invoicing system offers additional efficiency and saves time. Tired of spending time requesting copies of invoices? Our Gear Experts® have solved those issues so you can spend less time worrying about invoices and more time running your business. Our invoices platform stores every – and we mean EVERY - invoice from us for your account all available on-demand. You can download, print, or email your invoices right from the invoice page – it's that easy. Need to reconcile your account? Easily download a report showing your open invoices, all at your convenience. Select which users can see invoices, and for those that don't need it, turn it off.
Early Pay Discounts
---
As a PRO user, you get access to our exclusive early-pay discount. Taking advantage of our early-pay discount saves you 1% on invoices paid within ten days, when paid by ACH. Prefer to pay by credit card? That's okay too – we waive all convenience fees when you pay by a credit card as long as you pay the invoice within the ten-day window. Easily pay invoices anytime for free by ACH or by credit card with applicable convenience fees.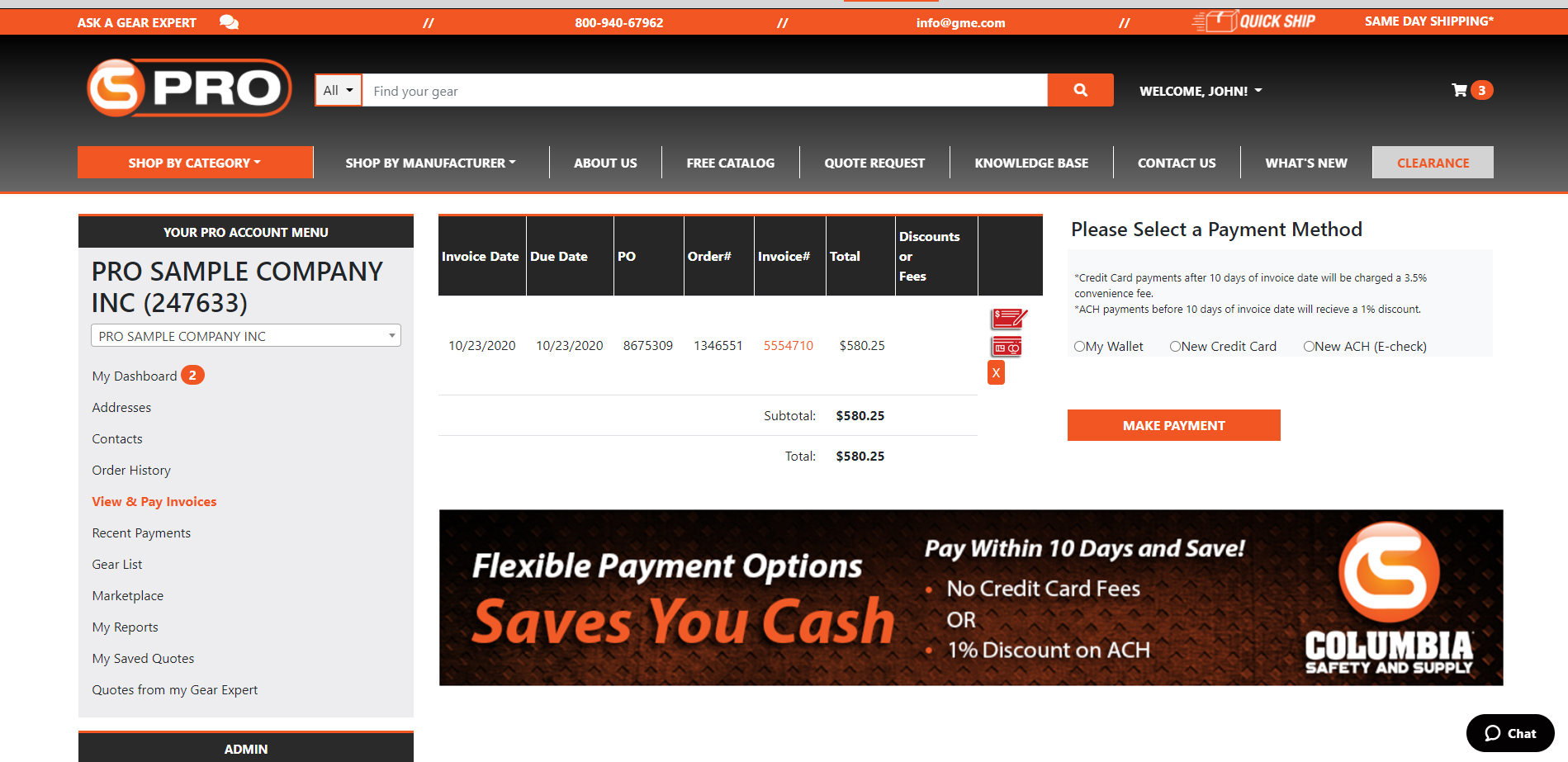 Management Dashboard
---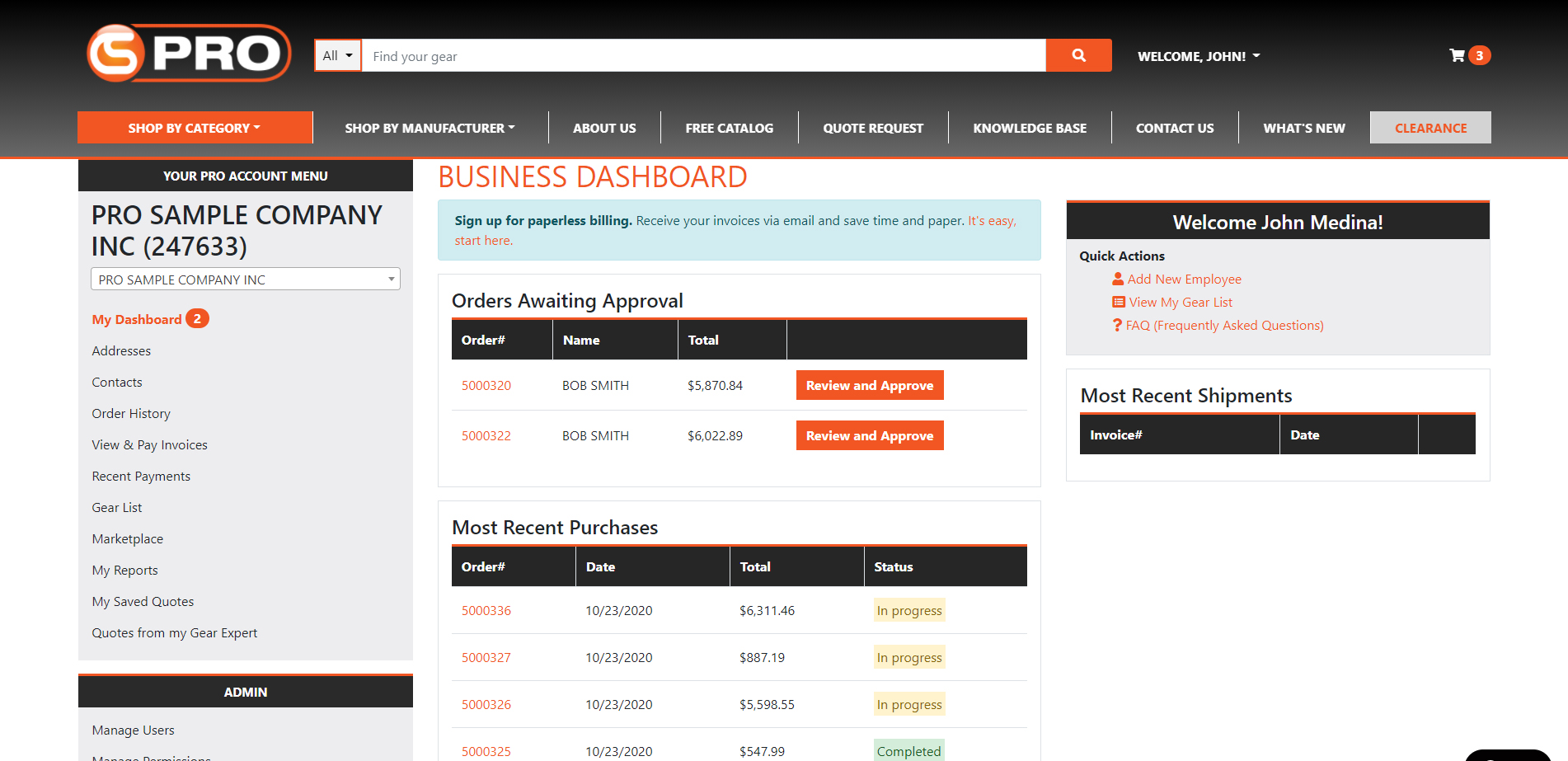 Your Management Dashboard is the central hub of the Columbia Safety PRO platform. This is where access to all the powerful features and benefits of PRO live. It is your command center – and from here you can control everything.
The snapshot dashboard "home page" makes getting to the most important features quick and easy – while providing a quick view of the information you need. With a summary of orders awaiting approval, recent purchases, shipments, and more – you can quickly check the status of a range of things without any extra steps.
Security
---
The Columbia Safety PRO platform is powerful – and with that power comes an added need for top-notch security. We've put specific security rules in place to ensure that your information stays safe – and can only be accessed by employees and administrators that you allow. Each user you set up will have a password-protected account, with the option of adding two-factor authentication. And, with the quick activate/deactivate feature you can instantly add or remove users.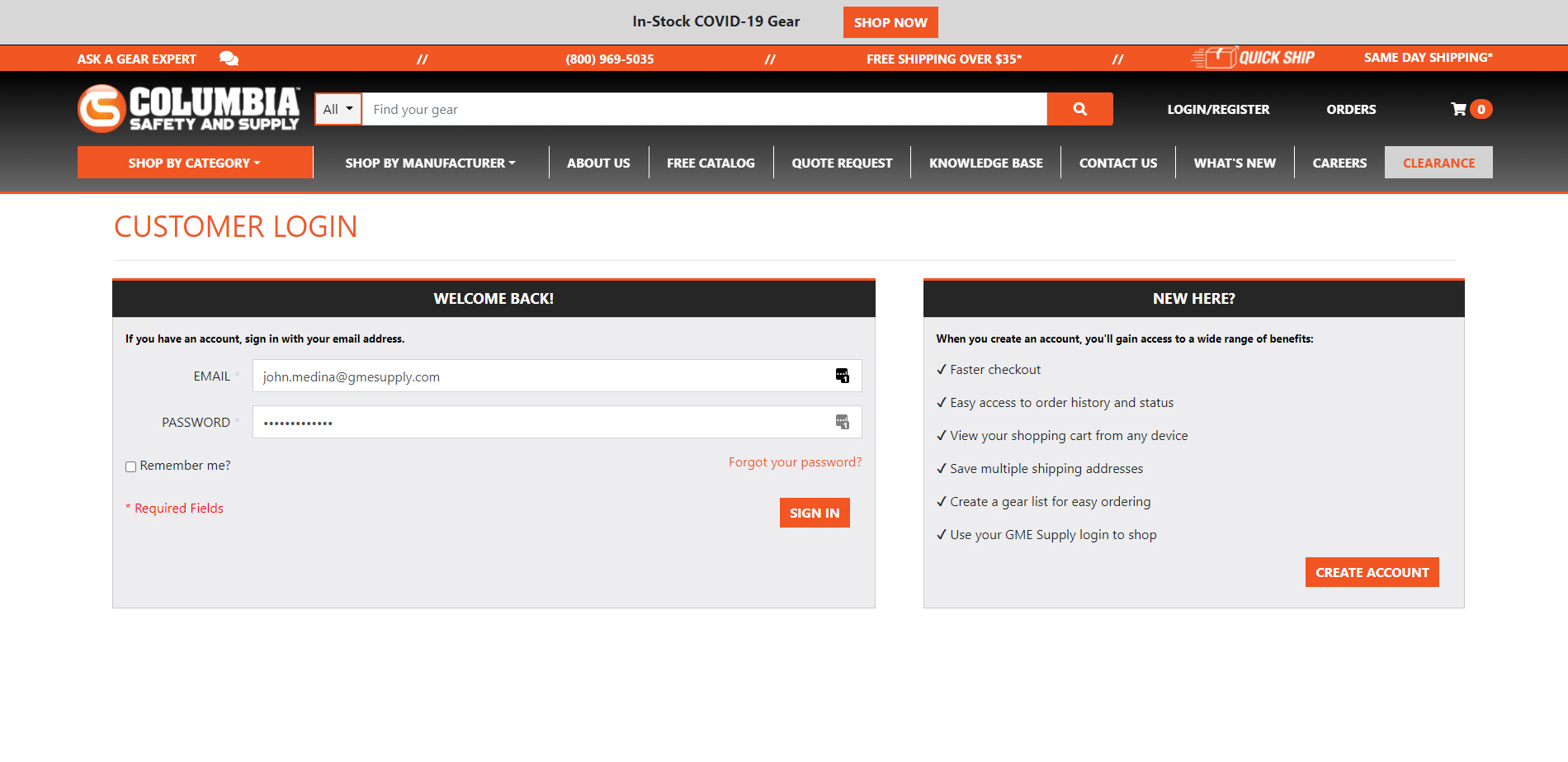 Your Personal Gear Expert®
---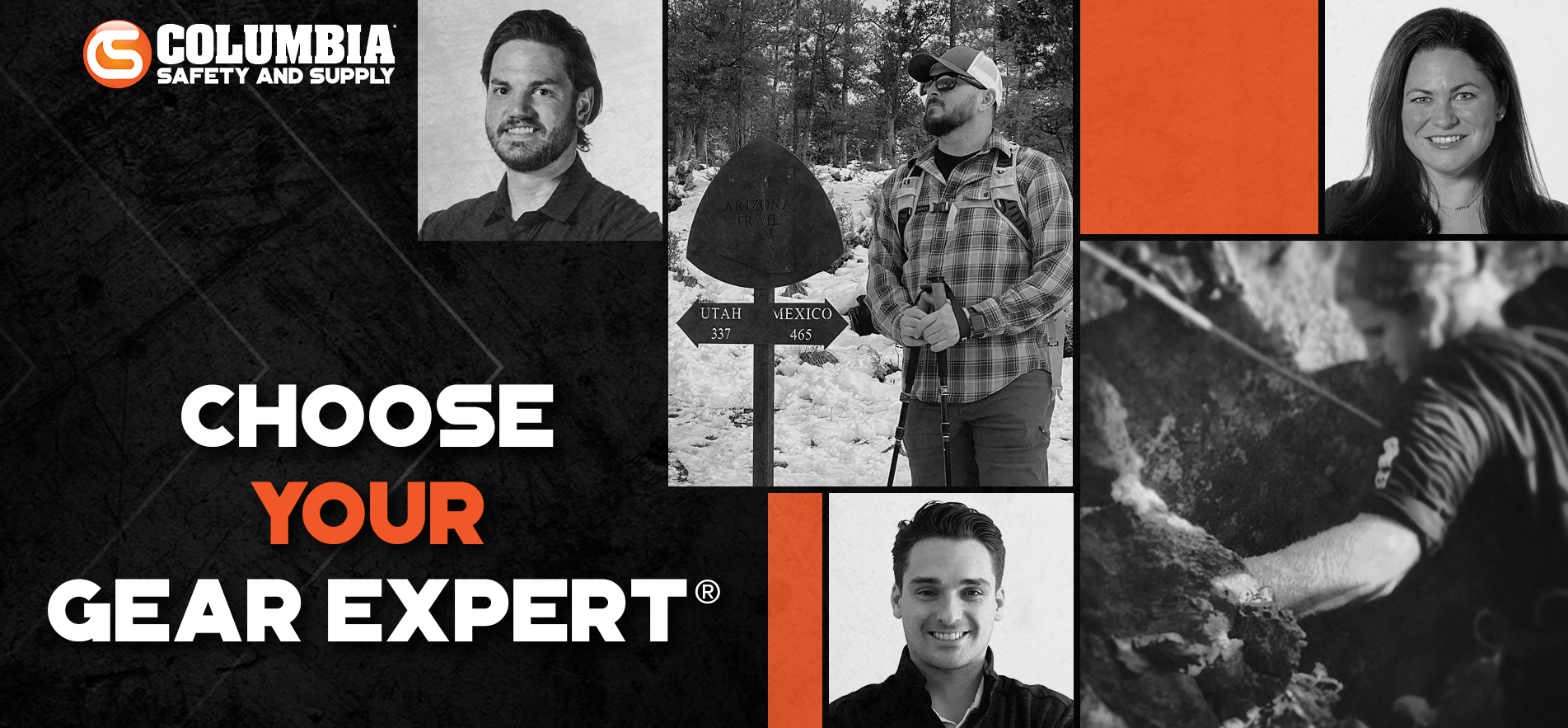 Columbia Safety PRO is an extension of your Gear Expert®. It's like having your Gear Expert® with you whenever and wherever you need them. From allowing new employees access to different aspects of your business (like ordering, reporting, or paying invoices), to placing orders, tracking shipments, and submitting quotes – our platform offers seamless integration and provides you with the tools you need to get the job done. Leverage our extensive industry know-how and our expansive gear selection.
Creating an extension of your company's logistics platform is easy with Columbia Safety PRO. And, you still have direct access to your Gear Expert®. Accessing your Gear Expert® through either our PRO platform, phone, email, or text– you can trust our Gear Experts® to get you the gear you need to get the job done and your workers safe and productive.
Climb Higher with Columbia Safety PRO and take advantage of a system built to help your employees compete at the next level. There is no cost or obligation. Take control of your organization's expenses, streamline your purchasing, save time and money, and experience the true power of the PRO platform. To get started, reach out to your Gear Expert®. Or, click the "Schedule A Demo" button below.